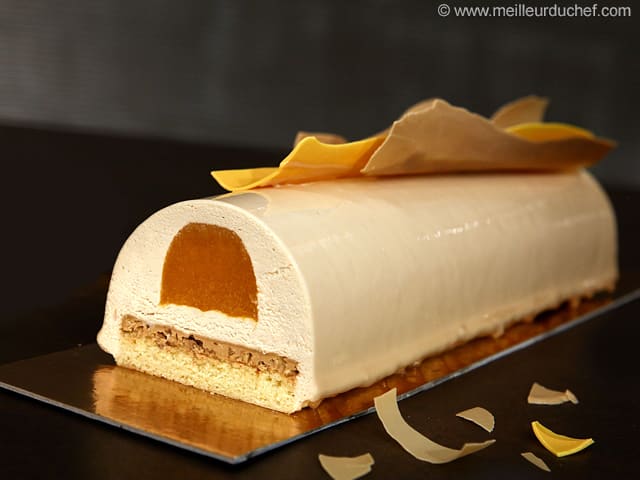 Caramelized White Chocolate & Apricot Yule Log
Makes :
2 yule logs (35cm)
Time:
3 hours (start in advance)
Author: Sandrine Baumann Hautin, Chef pâtissière chocolatière à la Chocolate Academy, Cacao Barry
0 comments
Ingredients:
160g egg yolks, 160g whole eggs, 160g castor sugar, 240g egg whites, 100g castor sugar, 100g unsalted butter, melted, 300g
superfine almond powder
, 45g
flour
, 200g
Cara nougatine filling
, 750g
Capfruit apricot purée
...
Method
For the almond biscuit:
Organise the necessary ingredients.
Pour the egg whites in the
stand mixer
recipient.
Start beating the egg whites at low speed.
Add 100 grams of castor sugar, pouring it gradually. Beat until smooth and foamy. Set aside.
In a separate bowl, place the egg yolks, whole eggs and 160 grams castor sugar.
Beat with the whisk...
...
See the recipe