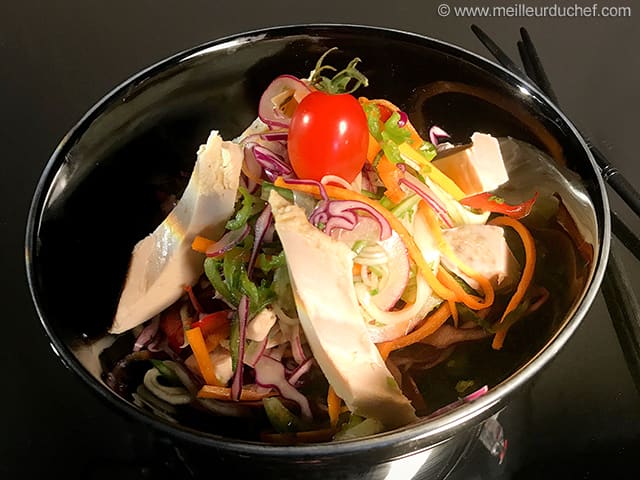 Thai Salad
Author: Chef Philippe
0 comments
Ingredients:
3 carrots, 1/4 red cabbage, 1/2 green pepper, 1/2 red pepper, 1 lime, 1/2 cucumber, 1 red onion, 1 small bunch of fresh coriander, Mint leaves, 1/2 roast chicken, cold, 2 hot red chillies, Caramelized sesame seeds, 3 tablespoons
rice vinegar
, 9 tablespoons fish sauce (Nuoc Mam)...
Method
Before starting this Thai Salad recipe, make sure you have organised all the necessary ingredients.
Peel the carrots.
Cut the carrots into slices lengthwise, to a thickness of 2 or 3 mm...
... then slice into a regular [TERME;julienne:julienne].
Cut the red cabbage in half...
... and into a quarter.
Finely slice the red cabbage using a
Japanese mandolin slicer
.
...
See the recipe