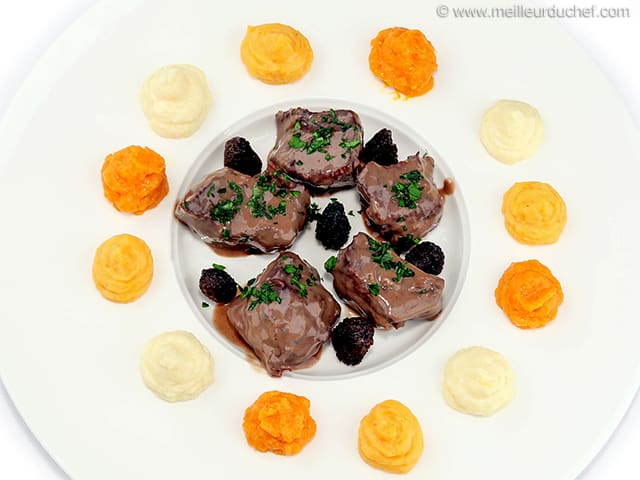 Venison Stew with Morels & Foie Gras
Time:
1 h 30 (+ 48 hours)
Author: Chef Philippe
0 comments
Ingredients:
1kg stewing venison, 3 carrots, 1 onion, 3 garlic cloves, 3 cloves, 1 bouquet garni,
Peppercorns
, Olive oil, 1 bottle of Bordeaux red wine, 30 to 50g
flour
, 1 bouquet garni, 100g duck foie gras, partially cooked, 100g morels, fresh or dried (weight when rehydrated)...
Method
Before starting this Venison Stew with Morels and Foie Gras recipe, make sure you have organised all the necessary ingredients for the marinade.
For the marinade:
Peel the carrots, onion and garlic cloves.
Cut the carrots in big chunks.
Cut the onion into big chunks.
Gather the vegetables for the marinade.
In a
sauté pan
, heat 5 cl of olive oil.
...
See the recipe