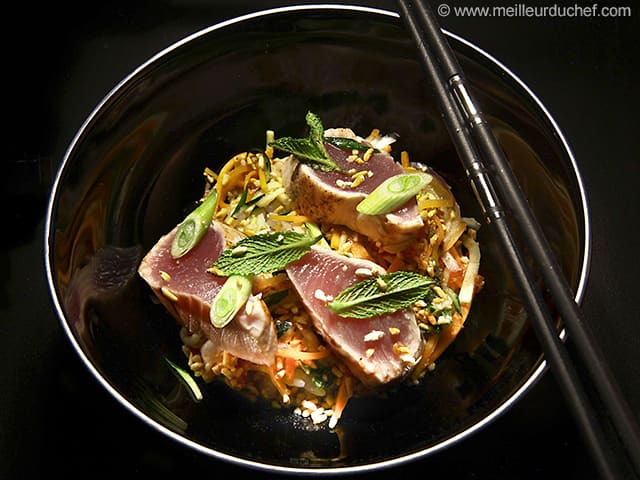 Grilled Bonito, Crunchy Salad with Toasted Rice & Yuzu
Author: Fabian Feldmann - Restaurant L'impertinent - Biarritz (64)
0 comments
Ingredients:
1kg whole bonito, 4 shallots, 2 carrots, 1 courgette, firm, 1 cucumber, 1 tomato, 2 spring onions, 40 mint leaves, 200g rice, 5 tablespoons rice, 3 tablespoons lime juice, 6 tablespoons
yuzu juice
, 9 tablespoons fish sauce, 2 to 4 hot red chillies, 2 teaspoons cane sugar powder...
Method
Before starting this Grilled Bonito, Crunchy Salad with Toasted Rice and Yuzu recipe, make sure you have organised all the necessary ingredients.
For the Japanese-style rice:
Measure the rice first, as this will determine the amount of water needed. Use a measuring cup rather than a scale, as we want to know the volume, not the weight.
200 grams of rice equals 20 cl on the graduation for liquids. Rinse the rice with cold running water a few times to get rid of the starch. Use clean water for this operation.
...
See the recipe