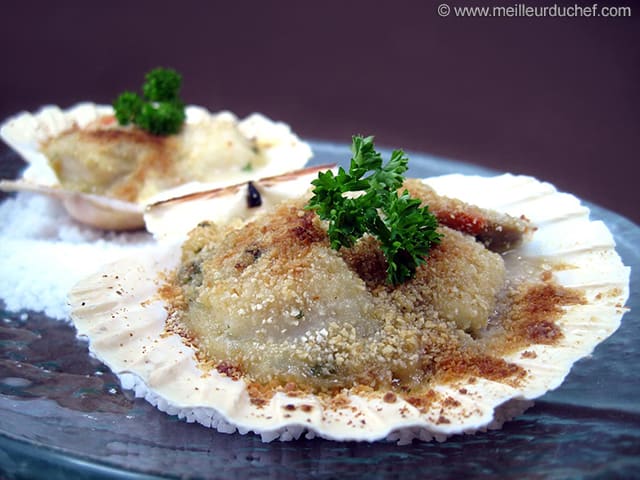 Coquilles Saint-Jacques à la Bretonne (Scallops au Gratin)
Author: Chef Philippe
0 comments
Ingredients:
12 scallops (with shells), or 4 scallops shells + 8 scallops (with coral), 3 onions, 3 shallots, 1 garlic clove, 1/2 bunch of parsley, 3 sprigs of chervil, 100g white bread (without crust), 20g flour, 1/2 litre of dry white wine (table wine), 150g unsalted butter, 20cl milk, 50g breadcrumbs, 1kg coarse salt...
Method
Before starting this Coquilles Saint-Jacques à la Bretonne recipe, make sure you have organised all the necessary ingredients.
Open the shells, making sure not to damage the scallops. Using a knife, scrape the inside of the top shell. This operation should be quite easy, as the top shell is flat.
Open the shell completely.
Remove the scallop from the hollow bottom shell by scraping with a knife. Make sure you do not damage the flesh. Set the shells aside.
...
See the recipe