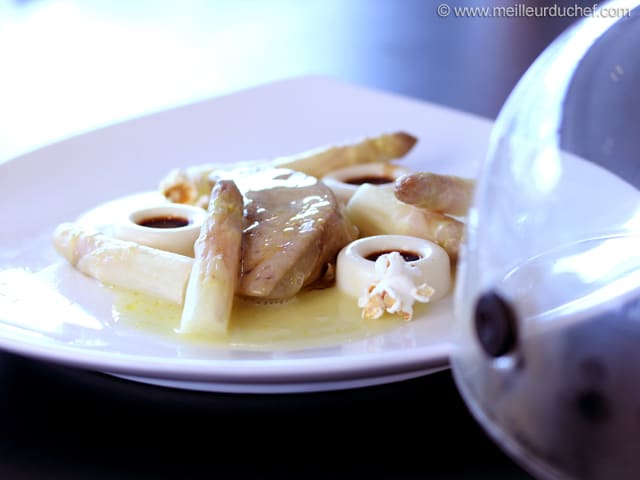 Duck Foie Gras with Granny-Smith, White Asparagus & Pine Aromas
Author: Cédric Béchade, cuisinier aubergiste (64)
0 comments
Ingredients:
1 duck foie gras, Salted popcorn, 50cl water, 50g salt, 1 sprig of thyme, 1 garlic clove, peeled, 40 white asparagus, 25cl milk, 25cl whipping cream, 1 garlic clove,
Agar-agar
, 10cl olive oil, Salt, 6 Granny-Smith apples, 1 lime, 6 black peppercorns, 0.6g
xanthan gum
...
Method
Before starting this Duck Foie Gras with Granny-Smith, White Asparagus and Pine Aromas recipe, make sure you have organised all the necessary ingredients. Peel the white asparagus.
Separate the heads by cutting the top 1/3. The remaining 2/3 will be used for the cream. Reserve the heads.
Slice the tails.
Place the tails into a deep saucepan with a little olive oil.
Season with salt. Here, salt is used as a taste enhancer. It is essential to add the salt at the start to enhance the flavour of an ingredient.
...
See the recipe